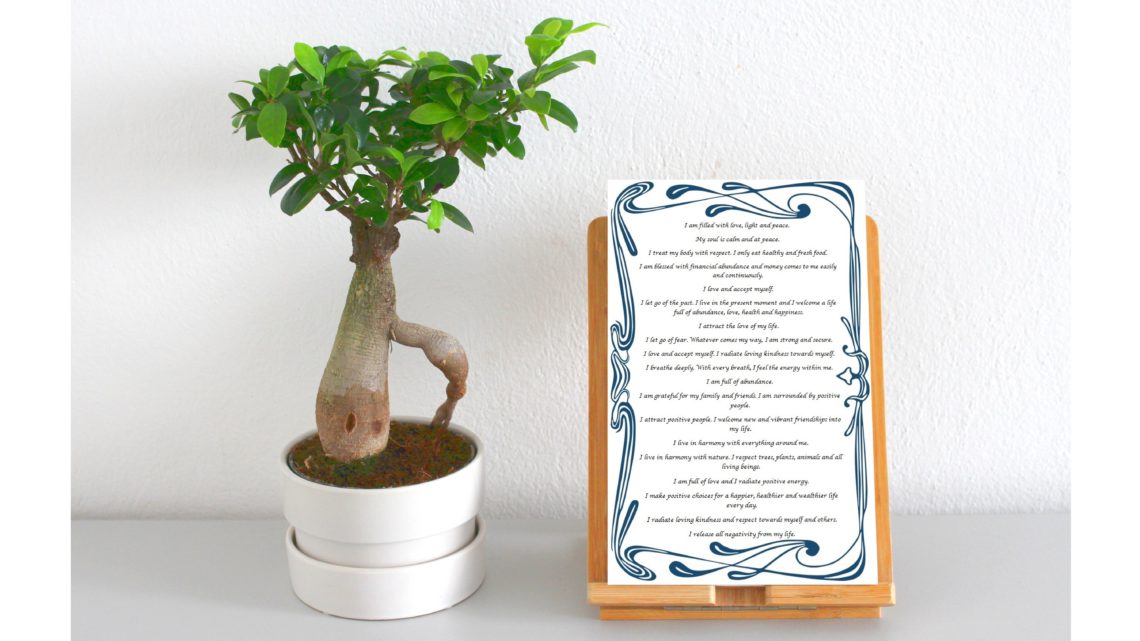 Printable List of Positive Affirmations
Thank you for visiting and reading this post. Please feel free to copy and paste this list into a word document and print for personal use. I also have a PDF version of this printable list of Positive Affirmations available for you to download. Please click here.
Please note that I am constantly updating this list so ensure you come back often. If you decide to join us, you will get notified of the updated printable list by email when new affirmations get added.
There are other bonuses included – please click here to see them all!

List of Positive Affirmations
I am filled with love, light and peace.
My soul is calm and at peace.
I treat my body with respect. I only eat healthy and fresh food.
I am blessed with financial abundance and money comes to me easily and continuously.
I love and accept myself.
I let go of the past. I live in the present moment and I welcome a life full of abundance, love, health and happiness.
I attract the love of my life.
I let go of fear. Whatever comes my way, I am strong and secure.
I love and accept myself. I radiate loving kindness towards myself.
I breathe deeply. With every breath, I feel the energy within me.
I am full of abundance.
I am grateful for my family and friends. I am surrounded by positive people.
I attract positive people. I welcome new and vibrant friendships into my life.
I live in harmony with everything around me.
I live in harmony with nature. I respect trees, plants, animals and all living beings.
I am full of love and I radiate positive energy.
I make positive choices for a happier, healthier and wealthier life every day.
I radiate loving kindness and respect towards myself and others.
I release all negativity from my life.
You might also like my Free Printable Affirmation Cards.
As always, I am happy to hear from you and if the affirmation you are looking for is not included, please contact me. I am also happy to receive suggestions from you for additional affirmations.
I look forward to hearing from you with your inspirations.
Blessings,
Edith